Most of the people love to do fishing in their leisure time and also some do it as their profession. But we all know fishing can be done easily as long as we have selected the perfect boat. While fishing it is crucial to go for quiet motors so that you do not scare or spook away the fish. Most of the anglers must use a fish finder while fishing. Therefore, it is important for us to understand what fish finders are truly compatible with quiet motors like Motorguide Xi5. So, let's find out what fish finders work with Motorguide Xi5?
No doubt that the Motorguide Xi5 is one of the best trolling motors in the industry right now, and with this motor you can easily fish in any type of water body. The Motorguide Xi5 is definitely a must-pick for the anglers who do want to get their hands on a motor that falls under their budget but at the same time provides high-quality too.
This trolling motor comes with a remarkable battery life that is enough to spend several hours in the water. Along with that, this one also comes with several thrust options in various sizes. So, in a nutshell it promises to be your best match regarding your water needs. For freshwater models, this motor comes with a wireless foot pedal, on the other hand, sea models or saltwater models come with a traditional hand-held remote.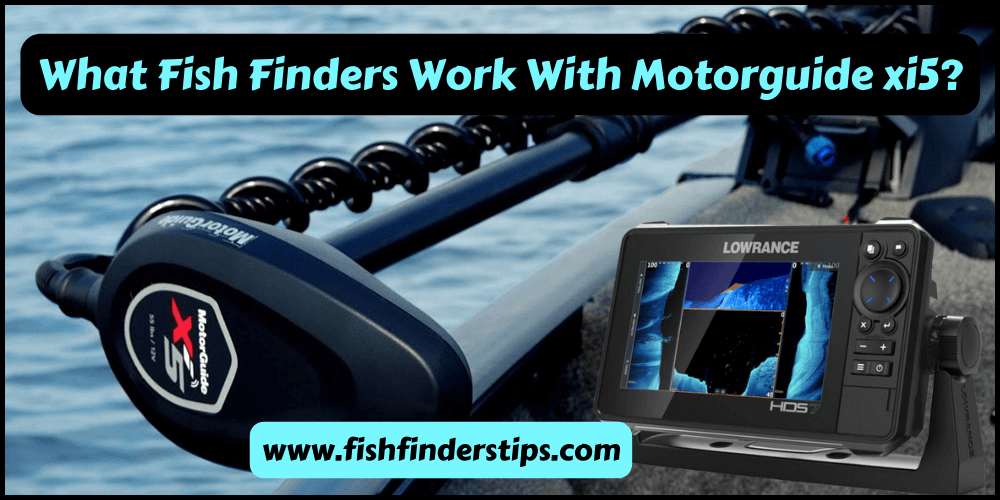 What Fish Finders Work With Motorguide Xi5?
Motorguide Xi5 is compatible with the following fishfinders:
Lowrance HDS Live
Lowrance Elite FS
Garmin Echomap
Simrad GO
Humminbird Helix
Lowrance Hook Reveal
Let's discuss the working of motorguideXi5 with these fish finders:
1- With Lowrance:
It's no new news that Motorguide and Lowrance have been working together to provide us with a better fishing experience.
Over the years, it has helped with the integration of fish finders and trolling motors, and also the built-in sonars and Lowrance chart plotters are just the cherry on the top.
If you have a Lowrance fishfinder, you can control your motorguideXi5 motors. For instance, functions like "go to" or "follow" a picked waypoint or contour can be controlled via your fishfinder using the motor.
However, keep this thing in mind that not every model of the Lowrance fish finders will work with the motorguideXi5. The only models that work with this motor are HDS live and Elite FS models.
2- With Garmin:
MotorguideXi5 is compatible with most of the Garmin fishfinders. However, you may have to employ different adapter cables depending upon your transducer port, which can be different for various Garmin fishfinder models.
For Garmin 4-pin fish finders, you should go for the adapter cable of 010-11979-00. For Garmin 8-pin fish finders, you should go for the adapter cable of 010-11979-0. For Garmin 12-pin fish finders, you should go for the adapter cable of 010-11979-0 and 010-12122-10.
3- With Simrad:
Lowrance fish finder is not the only one that can fully integrate with your motorguideXi5 but as well as the Simrad fish finders too. Simrad is a Norwegian company that produces remarkable fish finders. For motorguideXi5, the best options are Simrad's GO series, which is exclusively famous for its unique touch displays and highly interactive user interface.
Equipment Required Lowrance And Simrad:
It is important for your motorguidexi5 to work with your fish finders. First of all, make sure that your motorguideXi5 is equipped with Pinpoint GPS which they usually have. To allow your Lowrance or Simrad to cooperate with your motorguideXi5 you will be needing two things:
Starter Kit NMEA 2000
Motorguide Xi gateway kit
For the MotorXi tour pro series, you won't be needing any gateway kit, because it is already equipped with Gateway capability. You can also know What Fish Finders Are Compatible With Minn Kota Terrova? 
What Lowrance Units Are Compatible With MotorGuide Xi5?
Lowrance units that are compatible with motorguideXi5 are:
Lowrance HDS live
Lowrance Elite FS
In addition to these HDS generation 3, HDS Carbon, HDS generation 2, and Elite 12 TI'S can efficiently cooperate with the motorguideXi5. However, as explained above you would be needing additional equipment like NMEA 2000 network and gateway kit. MotorguideXi5 is equipped with sonar transducers that make Lowrance fish finders work extremely brilliantly
Does MotorguideXi5 Have A Spot-Lock?
Yes! MotorguideXi5 are equipped with spot lock features. These motors are up till now the quietest motors with excellent steering. They offer a standard remote for steering and speed functions, However, as MotorguideXi5 is equipped with pinpoint GPS, it provides more features like anchor locking and route recording.
MotorguideXi5 comes with its own version of the spot lock which is also known as virtual anchor technology. Anglers use this feature to lock their GPS positions as they like, and can also jog the anchor position if they need to.
With that being mentioned, all of the Minnkota's IPilot will work with spot lock and anchor mode. The Ipilot also aids in the jog function, and it also stores minimum waypoints as well and keeps a track of it in the remote.
Does Lowrance Work With MotorGuide?
Yes, Lowrance fish finders work with trolling motors like motorguidexi5. Both of the companies have been working in harmony for years to provide you with seamless findings with their built-in transducers. These motors are the best when it comes to fishing because they are extremely quiet and are equipped with high-tech features like pinpoint GPS and sonar transducers.
However, there are few Lowrance fish finders that work with this motorguideXi5 and they are Lowrance Elite FS and HDS generations.
Does MotorguideXi5 Have A Built-in Transducer?
Sonar transducers come as a built-in feature in these motorguideXi5. As long as you have the perfect connector cable, the motorguideXi5 will work perfectly with most of the fish finders and chart plotters.
Is The MotorGuide Xi5 Compatible With Humminbird?
Most of the Humminbird fish finders are compatible with motorguideXi5. In order to do this, you just have to get your hands on a 7-pin adapter cable. I have linked the Lowrance and MG xi5 and they work perfectly fine.
Conclusion
In a nutshell, the motorguideXi5 are the quietest motors out there. They have several built-in functions like spot-lock, built-in transducers, and pinpoint GPS. Most of the fish finders are compatible with the motorguideXi5 and hence it can take your fish-finding venture to the next level. I highly recommend you guys get your hands on motorguideXi5 to take your fishing game to the next level.
Recent Posts
link to 8 Best Fish Finders for Ice Fishing
Are you looking for the best fish finders for ice fishing? If so, you're in the right place. In this blog post, we'll provide you with a list of the best fish finders for ice fishing. We'll also...
link to 7 Best Fish Finders for Small Boats
If you're like most fishermen, you love spending a day on the water catching fish. But if you're like me, you also hate the hassle of getting your boat ready and fighting unpredictable weather...