In this modern world, where everything is empowered by modern-day electronics, the fishing world is no different. Many anglers and fishermen who fish these days so acknowledge how important a fish finder is for beginners. Fish finders can increase your catch rate by leaps and bounds and hence can help you in becoming a better angler. However, do you need a fish finder? Can't you fish without them? Let's find out.
Fish finders are not some cheap equipment that every fisherman and angler can afford. Some of them are quite expensive and cost you around a thousand dollars. Most of the fish finders available in the market are the ones that we usually mount on boats, there are also down and side imaging units available. Now fish finders also come out in portable versions, as well as for ice fishing, and are known as flashers. Similarly, there are also fish finders that you can cast from the bank and are called castable fish finders.
Do You Need A Fish Finder?
Let me tell you fish finders are not some magical equipment that will catch the fish for you. However, they do aid you in effectively locating the fish which will save you a lot of time and effort. In addition to locating they also equip the angler with effective information like water depth, condition of the water bed, the temperature of the water, structures, weeds, shelves, and other laydowns. Fish finders are not magical wands, you can, and people do catch fish without them. However, using electrical equipment will spike your success rate and you may catch an award-winning fish.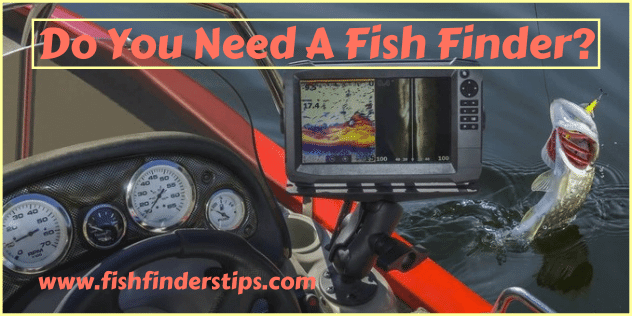 Do You Need a Fish Finder For a Spot-Lock?
No! Primarily you do not need a fish finder for your spot lock. Because spot lock trolling motor already comes with built-in GPS systems. So they efficiently help you to keep a check of your location without you needing a fish finder.
However, a fish finder does add some additional functionalities to your spot lock trolling motor, particularly when you buy a fish finder with mapping features. For example, you can use your fish finder to locate a school of fish, after locating them you can utilize your map to create a trajectory and way point. Once you reach at that location you can activate your spot lock to keep you at that very position while you can fish easily.
Besides, you can always take the aid of a lake map to guide your lock post, in which spot you want your boat to be, and it will take you there. Similarly, you can also take the help of your lake map to guide your trolling motor over the contour lines setting it at a certain depth range. Trust me, it will level up your trolling game.
Are Fish Finders Necessary?
Do you need a fish finder to catch fish? No! But do you need a fish finder to effectively locate them? Yes. One does not need to invest a lot when it comes to fish finders, if you are e beginner or just an occasional angler, a regular fish finder will provide you with all the basic needs of a fish finder.
Some of the main reasons why fish finders are necessary:
Fish finders effectively help you in locating bait. At times, it just becomes impossible for the anglers to locate bait at the water surface because they are suspended in the deeper water columns. So in times like these, you will thank yourself for investing in a fish finder to effectively locate the bait.
With a fish finder, you can go for certain and target various fish species. As such equipment allow you to locate structure, and flat areas where you can usually spot bass and halibut respectively. They also let you know about the waterbody's depth, which is also beneficial particularly when you're fishing in a waterbody that is new to you. You can easily mark the spots on your fish finders where you've found plenty of fish as a "fishy areas." In a GPS-enabled fish finder you can easily mark spots by providing it with some reference points, and depth range so you can come back to that same point later in the future.
Knowing the water depth and structures present beneath a moving kayak will allow you to have a better time catching fish. Because instead of guessing and wandering around, you can find good fishing spots with your fish finder, and you can find a structure with the great reef. Similarly, the bottom depth allows you to guess what kind of fish there gonna be.
Does a Fish Finder Help You Catch More Fish?
If you want to use a fish finder for catching more fish you must use it in a wide area so that it can scan several hiding places in a lake or a waterbody that can actually have fish. However, with the help of a fish finder, you can examine what happened underneath your boat in the water. The equipment shows its full potential when anglers use it from location to location while moving in a lake so that they can locate a spot where multiple fish can congregate.
Being steady while using a fish finder will pay you no success, However, as you move with your fish finder you can eliminate all those spots which are useless and have no fish. Fish finders allow anglers to examine and observe the fish trail, and how they pursue in a lake for the whole day, and thus can have a better fishing perspective and higher catch rate. In this way, they will know where and how to throw their lines in the best manner possible, and the fish finder will let them observe the real-time movement and behavior of the baits and lures.
You Should Know: Do You Need A Fish Finder For Ice Fishing?
The angler can observe via a fish finder whether a bait actually grabs the attention of the fish. If not, the angler can quickly change it with some effective bait, hence not wasting time while learning which bait is best for a certain fish.
In addition, the fish finders will let you know if your previous fishing spots have not been abandoned or exhausted. It means the fish have moved to some new spot. Hence, the angler should begin with broad searches and then narrow it down to individual fish using his fish finder. In this way, anglers can catch way more fish without being frustrated, rather than relying merely on their guesses, and instincts.
Do You Have to be Moving for a Fish Finder to Work?
Yes! All fish finders, including the 2D, side, and down imaging, are designed to work on moving boats. They can't function on a boat standing still or moving hardly. You may get some idea of what is underneath but on a still boat, you won't be able to get crisp images.
In order to scan fish effectively, you have to be driving your boat properly with a predetermined chart speed. A general rule of thumb is to set your chart speed either equal to the speed of your boat or less than the speed of your boat. For the most detailed and best images scan after every one to three miles per hour. If your boat speed is 3 miles per hour then you set your chart speed at four or three miles per hour for best results. On still boats and while driving slow you won't be able to get quality images, but if you use additional tools like Humminbird 360, and Live Imaging.
If your boat is still, and the chart speed is also very low then, the fish it will scan will appear much larger than its actual size. When it comes to estimating fish size, this is one of the major mistakes.
Similarly, the same rules apply for a very high speed, the images of the fish will look too small. In addition to this, driving at a slow speed will also stretch out the images increasing the fish size.
To make sure scanning is done properly with the right boat speed, and the right chart speed you need to scan them in a straight line. It will produce best images.
Why Do You Need a Fish Finder?
For anglers, fish finders offer multiple benefits, and some of them are really underrated. Fish finders are not tools required to catch fish but they do help you in finding them. With fish finders, you can scan huge waterbodies with great precision in no time. You can know about the water temperature, water bed, bottom depth, structures, and weeds. You can also examine the behavior of fish regarding certain baits and lures.
Fish finder will help you in finding a good fishing spot. You can track the trail of baitfish which can lead to bigger schools of fish. Locating a school of fish your fish finder will allow you to know in what water depth column they are suspending, and hence you can devise the most effective strategy to catch them. With fish finder you can also map out other features in a pond or a lake can identify specific features and can log essential data for future reference.
Conclusion
Fish finders are not required by everyone but adding them to your fishing equipment won't hurt. It will only add benefits to your regular equipment and hence you can catch more fish easily. Fish finders take your fishing game to the next level as you do not just sit around guessing and hoping a fish will give you a bite. But, now with such equipment you can do fishing in a very logical manner, thus not wasting time and resources.
Recent Posts
link to 8 Best Fish Finders for Ice Fishing
Are you looking for the best fish finders for ice fishing? If so, you're in the right place. In this blog post, we'll provide you with a list of the best fish finders for ice fishing. We'll also...
link to 7 Best Fish Finders for Small Boats
If you're like most fishermen, you love spending a day on the water catching fish. But if you're like me, you also hate the hassle of getting your boat ready and fighting unpredictable weather...