If you are a newbie to fishing and you want to amp up your fishing game. Probably, what you have been missing is a fish finder. Or maybe you have one but don't know how to wire fish finder to fuse box. If you have been into fishing for quite some time now you must be aware of the fact that how fish finders change up the whole game of fishing and it is the handiest equipment you have on board with you while fishing.
When you are fishing in some new underwater domain, a fish finder is extremely helpful to help you with fishing in new areas.
So, most of you must have bought it and are looking for ways to install it and wire the fish finder to the fuse box. Well, do not worry you are in the right place.
To make a fish finder work effectively, it is essential that you make sure it gets properly installed and wired.
In the following sections, I am going to explain the steps you need to take to install a fish finder to a fuse box effectively, and also to a direct battery. It's an easy step-by-step guide that any newbie can follow.
How To Wire Fish Finders To Fuse Box?
Your fish finder will consist of two units; a display screen and a transducer so wiring your fishfinder to a fuse box will take two steps:
Wiring the transducer
Wiring the display unit
So before discussing the process we must discuss what tools you would be needing.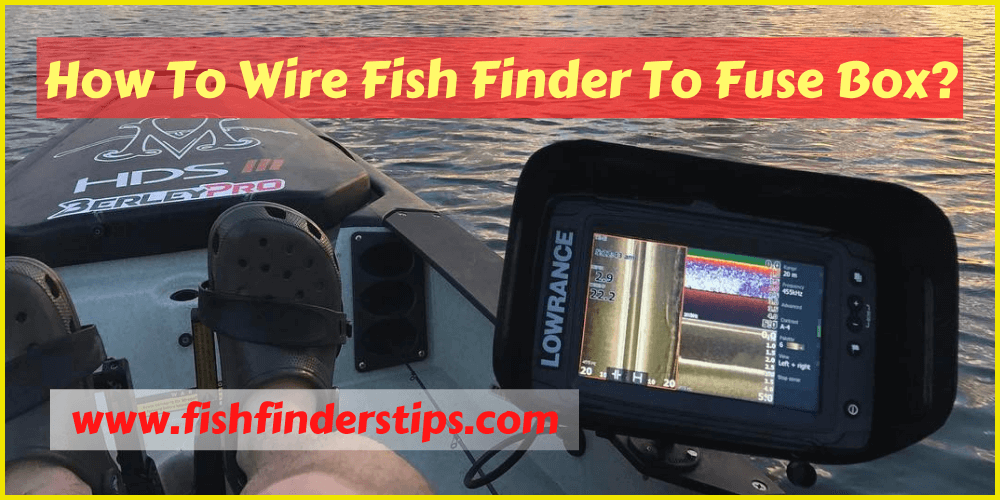 Tools You Need To Wire Your Fish Finder:
It's best to be prepared with the right tools and equipment to ensure effective installation and wiring. You will be needing following equipment in order to wire your fishfinder to the fuse box:
Crimping tool
Zip ties and wire clamps
Wire stripper
Step:1 Wire Up The Transducer:
The transducer acts as a power unit, from which power is drawn directly via the head unit, and for that reason, you will only see one cable coming out from the transducer.
The cable that is coming out from the transducer is our key, you need to take this wire so that it can be fed to the boat, and run it around the edge so that you can connect it directly to the display screen of your fishfinder.
If your boat does not have any hole or clear entrance, from which you can pass the transducer cable to the boat, then you can drill a hole in the boat using a drilling device.
Now you must be thinking about the hole in the boat? Do not worry you have to keep it above the water line for obvious safety concerns.
However, if you are someone that does not prefer to drill a hole in your boat, we understand. Then you can also pass the cable from the side. However, obviously, it won't look perfect but you will get the purpose.
If your bot comprises a housing from which you can run the wire from behind, then you may need to use a wire snake so that you can feed the transducer cable to the front. Or else, you can just tuck the wire beneath the lip or on the edge of the boat.
Either of these can be done by using wire clamps, and clip ties that should be placed in the direction of the display unit.
Now you have reached your display unit, here you will find some excessive cable that will need dealing with.
Now remember this, never think of it as a solution to cut this excessive wire to make it short. In doing so, you may risk ruining the whole connection. If you cut the cable you will also lose your product warranty.
Therefore, instead of cutting just coil up the excessive wire collectively and tie it in a neat manner using another zip tie.
While doing this do not forget to leave three to four inches behind which you are going to plugin the display unit after the installation.
Step:2 Wiring Up The Display Unit:
Coming to the display unit, you will see two cables originating from it. These are actually positive and negative wires that will extract power from the battery.
Whether you are wiring your fishfinder to a fuse box or to a battery, the process is not rocket science but rather simple until you figure out which wire is which. You can easily identify them either by looking for signs of "positive and negative" or you can also distinguish them based on colors.
If you are going to differentiate based upon colors make sure that you are reconciling with the manufacturer's manual to correctly identify which color indicates positive and which one indicates negative. Most of the time red indicates "positive", and on the other hand black color indicates "negative", but always make sure to check because it won't hurt.
How Do You Hook Up The Wire To The Fuse Box?
Now, there are two ways to hook up your fish finder wire. You can either connect it directly to the battery or you can either connect it to the fuse box. Most manufacturers prefer to connect directly with the battery using an inline fuse. Also read Do I Need A Fuse For My Fish Finder?
However, this also means that you have to run a lot of cable than available. That is why you should go for connecting with a fuse box. Despite that, there are also other reasons why the former is preferred.
Connecting The Wire With The Fuse Box:
Follow these simple steps to effectively connect your fishfinder to the fuse box.
Step:1 Locate An Open Fuse Terminal:
You first need to identify or find an unused spot located within your fuse box.
Step:2 Cut The Inline Fuse And Other Battery Connectors:
Now, cut off all the inline fuse (if you have one) and the connectors. We are cutting these because you won't be needing them for a fuse box connection.
Step:3 Strip Out The Insulation Of Wire:
With the aid of wire cutters, strip off the wire up to an inch or a half, so that you can expose it within the wire.
Step:4 Locate Positive And Negative Ends:
Now match your positive and negative cables with their respective terminals. Repeating, this would be clearly mentioned on the fuse box.
Step:5 Crimp All The Wires In One Place:
After doing this, insert one of the cables into its respective terminal. Now use your crimping tool to clamp the wire with the connector before you can repeat the same with the other wires. You can use these connectors only once, if your fuse box has been used previously then you have to go and buy new wire connectors.
Step:6 Installing The Correct Fuse:
In the end, you just have to insert a fuse within the fuse tap, one that synchronizes with your device's requirements, which you can also find in the user guide/manual.
How Do You Power Up A Fishfinder?
Powering up a fish finder is not difficult. It is as simple as "hitting the on button" present on your fishfinder. If your boat is equipped with "MFD" which is a multifunctional display system, it will be very easy to operate the fish finder even for beginners. It displays a combination of chart plotter, fishfinder, radar, GPS positioning, and some other functions that make the job much easier. In more complex fish finders, it may take more than one trip to be familiar with the functions and different features.
How Do You Wire A Lowrance Fishfinder?
All Lowrance fish finders come with their mount. All you have to do is:
Use a drill for drilling holes as our fixing points. For this purpose use stainless steel bolts, and utilize the base as your template. Now cut a circle on your chopping board using that template. Drill holes in the same positions as on the boat. For countersinking the nuts, use a hull.
Push the bolts into the holes, and melt them without forcing the nuts all through the way. Make sure to make an entry and exit point for the unit wires.
Now start drilling holes at the back of the binnacle mount. After that, you can put the fish finder as well as the binnacle in your freshly drilled spots in order to see if they work.
Now run the power leads, in order to do this, you must have to understand that if you need to lengthen or shorten the wires. Now drill an exit hole.
The wire must run the power source and then be attached to the fish finder. Following this step, place your transducer in the boat's deepest area. Now hold the transducer mount opposite to the transom, and connect the wires with the dash. Once you are done with installing all the wires, fix your transducer and hook all the systems in place. After all this, you just have to turn on the power.
Can You Run A Fish Finder And Trolling Motor On The Same Battery?
One may face interference while connecting the fish finder and trolling motor with the same battery. Not only will there be screen interference, plus you do not want your battery to be weighed down with all these electronics. A bigger motor recharges the starting battery in between the fishing spots.
Conclusion
Proper installation and wiring of your fish finder unit will ensure its proper and efficient working. That is why it is crucial to understand how to properly do it. Most of the people don't take it seriously, for example, they cut the wires without knowing they are destroying the connection and also the warranty won't be applicable to the product.
Therefore, doing it the right way is necessary. I hope I have answered all your ambiguities regarding powering and installing your fish finders so that you can enjoy fishing as much as I do.
Recent Posts
link to 8 Best Fish Finders for Ice Fishing
Are you looking for the best fish finders for ice fishing? If so, you're in the right place. In this blog post, we'll provide you with a list of the best fish finders for ice fishing. We'll also...
link to 7 Best Fish Finders for Small Boats
If you're like most fishermen, you love spending a day on the water catching fish. But if you're like me, you also hate the hassle of getting your boat ready and fighting unpredictable weather...