To find and catch a fish, especially under the ice is not a piece of cake. But, fortunately, this is not a stone age and we are not stone men, today we have technologies that can make this happen, and hence the job can be done with much ease. Today, we are going to shed light upon the question "Do you need a flasher for ice fishing?" in this article.
Fishfinders have been here for most of the time and with the latest technology and development, they have helped anglers a lot in the fishing industry.
But, it is old talk, now you can also find flashers in addition to fish finders. Flashers are very much alike and work in the same way as fish finders. They also utilize sonar technology to provide information about what is hiding beneath the surface. However, flashers don't have the same display as fish finders.
Flashers come in different technologies and screen displays, and choosing the right one mostly depends on your choice and personal preference.
In order to help you in making a choice, we have prepared this guide to give you information about the flashers.
It does not matter if you are a beginner or a pro, flashers can help you a lot when it comes to fishing. Anglers consider flashers a lot particularly when it comes to ice fishing as they increase your chance to a maximum of catching fish.
Do You Need A Flasher For Ice Fishing?
Yes! If you don't want yourself to freeze to death and catch more fish in no time. Ice fishing is an adventurous form of fishing but at the same time, it's risky and dangerous. So, if you don't want to spend a lifetime on ice, but want to catch some fish then yes you need one.
Some of the anglers may prefer it as "cheating" but I will say it as "smart work". However, if you are using any modern equipment then it's the same too. At the same time, beginners can learn a lot from such devices.
It's quite important particularly when you are ice fishing at night. In such harsh conditions, you will thank your flasher for the fish finding.
Not only the flasher that will make the ice fishing easier but also the tip-ups, and tip downs. Anglers use them to cover more water surfaces and hence increasing their chance to catch more fish and get more success. Others would say it's lazy, I would say EFFICIENT!!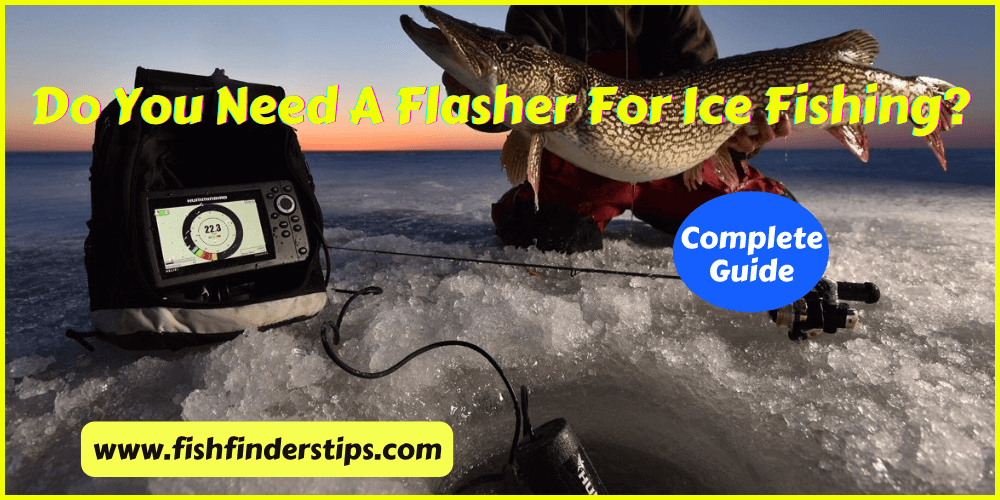 Now you may ask what would people do for ice fishing when there were no flashers? Obviously, they did but that was too hard. You can still do ice fishing without a flasher, but as a modern-day angler, it would be such a shame not to equip yourself with modern-day fishing equipment and devices. In my personal opinion, a flasher is a great device and one should definitely have it.
 Ice Fishing Fish Finder vs Flasher: Which One To Buy?
If you are new to fishing then you probably are asking yourself, should you go for a fish finder or flasher? If you are someone who loves to do fishing all around the year at different places and for diverse fish species, then you should probably go for a fish finder.
On the other hand, if you are an angler purely dedicated to investing yourself in ice fishing then I would recommend you to buy a flasher.
Whether you decide to invest in a flasher or a fish finder make sure to do your research and learn about all the current models and modifications before actually buying one.
Make sure to read all the mentioned details and precautions so that you can make a wise decision. Both flashers and fish finders are expensive equipment and are equipped with all the necessary features required for both traditional fishing and ice fishing. If you're on a budget, you can simply invest in a fish finder's transducer, because a finder can be connected to different transducers for different areas like ice fishing. You will love to read Is fly fishing more effective?
Why Use A Flasher For Ice Fishing?
One of the major pros of the flasher for ice fishing is that you're not just sitting there, instead, you can actually see what is happening under the ice surface.
After some time when you will be experienced at reading a flasher then you can also easily understand where your jig is, how high you should lift it, and where it should be positioned to take the fish out of the ice (retrieving).
On a flasher's screen, you can also observe if a fish is interested in your bait, or if the fish has not shown any interest in the jig. The flasher will notify you if there is a strike or the fish is going to move away.
With the help of a flasher, you customize several adjustments like movement and the type of bait you are using for ice fishing. In addition to this, you can also easily spot underwater structures present beneath the ice.
You can estimate the depth of the water, and any other structures like gravel, rocks, debris, etc. While using a flasher for ice fishing you are not merely relying on your intuition but you are actually saving your time and effort for catching the fish.
However, the game is all about having the right flasher for ice fishing. You should always go for the flasher having a built-in GPS system in them. Beyond this, combination units are also quite helpful.
How To Use A Flasher For Ice Fishing?
To use an ice flasher follow these steps:
Ignite the Power: Most flashers run on batteries, so make sure that their terminals are properly connected and they are having a secure connection. In case you are using a Lithium battery combo, make sure it's a secure connection. Turn the power on and take your flasher near your fishing ice hole.
Lowering and Setting Transducer's Length: Lower down your transducer into the hole. The new flashers perform better than the older ones. You have to make sure that you are lowering your transducer to a good length. The best practice is to have it on the bottom edge of the ice.
Setting the Range: Set the range according to your flasher's reading capacity (1-100ft). While setting the range it is good to have information on the water depth. Now set the bottom depth range on your flasher, always set it to a higher range than the actual depth. For example, if you're fishing at 25 ft you can set your range to 31 ft.
Throw the Lure and Begin Fishing: When you throw the bait in the water, you can actually see it on the flasher's screen in the beginning, it will resemble a bar. If you are finding it hard to differentiate between the line, lure, and the fish, then you can jiggle your pole a bit to see the movement on the screen. Make sure that the lure looks like a line or bar on the screen, so that you can easily monitor the fish movement's on the screen.
What Does A Flasher Do For Ice Fishing?
A flasher can be extremely beneficial when it comes to ice fishing. The flasher is a great equipment to provide information about what is happening underneath the ice so that you can have the best opportunity to throw your line. With a flasher you can get a crisp image of water and structures under the ice, providing you with numerous opportunities to grab more fish.
How Do I Set Up My Ice Flasher?
First, you have to make sure that the flasher is running perfectly with its power on. Then you have to set the transducer, as soon as you lower down your transducer into the ice hole you will notice symbols on the screen.
Now mark the bottom line using your transducer. The flasher's screen will display it on the bottom like a large red bar. If you also acknowledge green bars on the screen then most probably you are witnessing some vegetation and plants.
However, if you see any yellow lines or bars along with these lines then you are witnessing a fish. Try to fish between 0 and the bottom. Choose your lure wisely according to the fish species, and begin fishing. Keep in mind that returns coming from the bottom can vary slightly.
Are Ice Fishing Flashers Worth It?
In my opinion, they are definitely worth buying and deserve a shot. Ice fishing flashers are primarily designed for this very subject and that is "ice fishing". If you are a highly committed angler, dedicated to ice fishing then you must have one.
Flashers really make you capable of going over the top when compared to fish finders because they can actually depict a real-time image of what is happening beneath the ice hole. Not only this they give you crips images just like the fish finder and of high-resolution too.
Not only this, with their advanced technology, you can actually scan and locate fishes at different depths which you can't have with other major ice fishing equipment.
You can actually have more fun while ice fishing with a flasher because you get to see fish reacting with your lure or bait in real-time. Yes! You can actually see that movement on the screen and can position yourself and adjust your technique accordingly.
Why Is A Flasher Better For Ice Fishing?
Both fish finders and flashers have their own pros and cons as well. But what really matters is what equipment you are using for which occasion. If you are doing ice fishing, then a flasher is a better choice than a fish finder.
Both devices will tell you about the fish's location, depth, and all but what really differentiates them is the "display." Flashers come up with some additional high-tech features that produce more user-friendly images or returns.
As compared to a fish finder, you will find a flasher's display to be quite different and highly user-friendly. However, modern fish finders can show HQ images with many details, and you can also see what happened in a specific area just a few seconds ago.
On the other hand, flashers are known for their details, they can give you every single detail that you need for fishing. The display is quite different and they usually have different colors to depict different things like fish movement, depth, and lure.
Flashers are also known for their longer life, their batteries don't run out as much as a fish finder because they don't have much bigger display screens that consume a lot of power.
How To Ice Fish Without A Flasher?
For fishing without a flasher:
Learn About the Water Terrain: Learn about the underwater topography using maps available of the lakes and rivers which you can get for free. Try looking for a location about which you can find the most information about the contours. Try looking at the maps under the section "State's Fish and Game Department."
Utilizing Structure: To find the right structures you have to get into your detective mode and trust your intuition. Once you find the right structure where fish usually reside, you can come back again and again for that spot. You can have a look at the shoreline, if it's surrounded by trees and some of the fallen trees are floating in the water, then probably there would be wooden debris structures underwater.
Ice fishing has been here for a longer period than the electronics have and one can do ice fishing without the help of this equipment too. It only takes patience, knowledge, accurate fishing location, and also having information about the fish species.
Conclusion
In a nutshell, I personally prefer a flasher more for ice fishing and consider it to be of great value and of course a workhorse when it comes to ice fishing. Are they worth it? Yes! Pretty affirmative. Ice fishing is all about adventure and having fun out there, no one wants to bear the cold and be on the ice for all day long. That's where a flasher becomes handy and you can monitor every single moment underneath the ice, which makes the process much faster and more fun.
Recent Posts
link to 8 Best Fish Finders for Ice Fishing
Are you looking for the best fish finders for ice fishing? If so, you're in the right place. In this blog post, we'll provide you with a list of the best fish finders for ice fishing. We'll also...
link to 7 Best Fish Finders for Small Boats
If you're like most fishermen, you love spending a day on the water catching fish. But if you're like me, you also hate the hassle of getting your boat ready and fighting unpredictable weather...