It may seem like that for fly fishing you must need waders but that is not always the case. The fact is you do not actually need waders for fly fishing. However, waders may prove very beneficial to the anglers while fly fishing. However, I may not categorize them as "required gear." We actually need to explore this topic so that you can understand "Are waders necessary for fly fishing or not?"
Are Waders Necessary For Fly Fishing?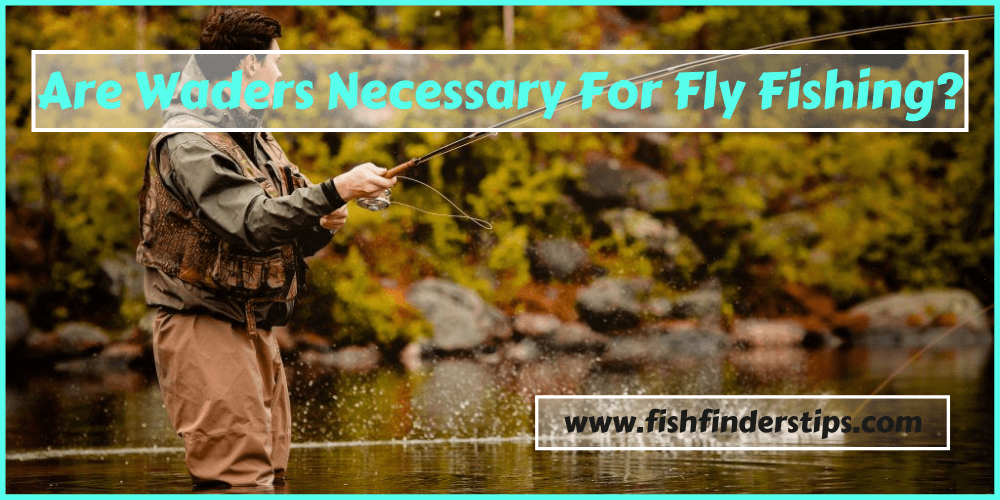 Waders do not count as the necessary gear required for fly fishing in fact in some situations they can be a burden for the angler but in certain situations, they offer a lot of benefits as well. Some major benefits that waders provide a fisherman include:
They provide insulation from the cold.
You have more capability to efficiently access swimming pools.
You can move past shoreline trees easily.
Nothing can snag or damage your backcast.
More empowered feelings about fly fishing increase strength and more goodwill for fly fishing.
With waders on you can easily move up and down while searching for fishing pools without worrying about getting wet. Waders do help anglers a lot and do provide an energy boost but they can also be a burden and at the same time they are very expensive too for the newbies.
The thing is you actually do not need waders for fly fishing but are you depriving yourself of the good by not wearing them? For that theory, we have to explore this topic from every angle.
How Do You Wade Without Waders?
Wading without waders also known as "wet wading" is the most preferable thing for anglers in warm summer days when we have no fear of getting wet. If the external environment is warm enough and also the temperature of water is bearable then wet wading is the most comfortable option for fly fishing. However, even when you are wet-wading it is necessary to have quality boots or footwear.
If you opt for sandals having over the foot straps then it's the best choice for wet wading. With those boots on you can easily walk in the water without any discomfort. You can look for brands available in the market for effective wet wading boots.
However, these boots can be expensive for some so what can we do? Well, another option is to do wet wading by wearing neoprene socks with boots. They usually cost around twenty-five dollars and you will wear neoprene socks along with your wading boots.
You can save these socks for colder days because they sit about up to the shin and in this way you can keep your feet dry and warm throughout the day.
Why Do Fishermen Wear Waders?
We cannot say that waders are the utmost important thing for fishermen, however, they offer some necessary benefits if one plans to wear them. Below are the benefits of the waders that can give you an idea of how waders can be beneficial for you:
You can move easily into the lake or river away from the bank and the trees which can be a hindrance for your cast as they can easily snag away your fly.
It gives you an edge over the ban fisherman as you can move into the shallow river pools and eddies. Also, you can have a better chance to catch more big fish as these shallow pools are less pressured than the water near the shore.
You can move easily in the river as you have no worries about getting wet and you can also roam freely in the mushy areas too without being worried about your clothes.
Instead of fishing from shore, you can get clear "Top-down" views of the pools and trout as you can go deep inside the lake or river.
When you are standing in the river you can actually cast your fly in a more natural way than the ones presented from the shore. The fly follows the natural air current and attracts the trout in a more convincing manner.
By wearing waders you can have a better view and estimate about the river's health, its condition, and the strength of currents to have an estimate of fishing.
Lastly, if you are fishing in colder areas the waders keep you safe from the cold water and keep your body warm.
How Do I Choose Waders?
While looking for a wader you must keep in mind that it should be appropriate for both seasons. It should not make you dehydrated or smelly in the summers, and also should keep you warm in the winters.
Most importantly the waders must be breathable. They should be made up of a material like gore-tex, dri-plus, or any other synthetic material that allows the moisture to escape from the waders. Therefore, you should never go for rubber waders.
Always opt for stockingfoot wader over the bootfoot wader because they are much more adaptable and flexible as compared to the boot waders.
The wader should also be light in weight because when fly fishing in waders in the hot summer season you should not be drenching yourself out due to a weighted wader.
If you are not aiming to fish in freezing or near to freezing water then there is no point or need to get an insulated wader.
In a nutshell, always aim for the lightest, breathable, and the ones with stockings. Also, look for a company that is a pro in making waders and has a huge loyal clientele. Always do your research first.
Can You Fish For Trout Without Waders?
Waders are not a crucial part of fishing, but when it comes to fly fishing and particularly when it is for trout then waders can serve some great purposes. The thing is when you are targeting trout the waders will provide you with the utmost comfort even in the summers.
Why? Because trouts usually swim in cold water as they prefer it and if you are not comfortable standing in the water less than fifty degrees, then waders must be your best friend. However, it is not a hard and fast rule. There are plenty of fishermen out there who efficiently catch trout without a wader, so it majorly depends on your skills of fly fishing too. Before going to fly fishing you should know how much fly fishing is effective.
Are Fly Fishing Waders Safe?
One must be really careful when it comes to fly fishing with waders. Because if you fall into the river or lake with your waders on they will get all filled up with water pushing you down to the bottom of the river. That is why a safety belt is compulsory when it comes to fishing with waders.
Though waders offer several advantages, they also pose some serious threats as mentioned above. Also even when you are in the boat do not take it lightly, always keep your life jacket prepared in case of tripping so that you can float safely in the water without drowning.
Related to this is if you are opting for a float tube, then waders can be the best choice for you because they are so comfortable to sit with waders on. Not only the float tubes make your sitting experience much more comfortable but they also keep you safe from the deadly and hungry lake creatures/lifeforms like leeches.
If you put your vare leg directly into river water you are openly inviting leeches to munch up on your leg. However, when using a float tube and wearing wader stockings the experience is much more comfortable and less frustrating.
Do Your Feet Get Wet With Waders?
Well it is not like perfect leather insulation and they do not completely keep you dry but that's not their purpose as well. The main function of the waders is to keep you on your feet. They do not provide the perfect hindrance between water and your feet but they do help you to achieve perfect balance while standing in the water. Wading boots do not weigh you down while you move away in the water.
Keep in mind that wading boots or waders are not designed or manufactured to provide you with water insulation or they are nor meant to be waterproof. Instead they allow the water to freely move in your boot while the waders, stockings or socks are the ones that keep your feet dry.
However one must not only rely on the stockings or socks particularly when you are fishing in the winters or cold season. Stockings do offer a little insulation but they can't keep the cold away for much longer. You have to dress up and layer yourselves accordingly.
But if you are fishing in the warm season make sure to wear nylon pants that will not lock the moisture and will allow your waders to breathe.
What Kind Of Waders Are Best?
Most fishermen and anglers always go for stockings and the waders separately because they allow you to be so adaptable and flexible when it comes to fishing.
As most of the anglers do not opt for insulated waders because that is something reserved only for ice fishing, they go for buying stockings and boots separately so that they can use them differently in various situations.
Do You Wear Shoes In Waders?
Yes, there are specialized boots available in the market that are meant to be worn with the waders only. Wader boots allow you to have a firm sturdy balance while standing in the river or lake despite the strong currents. You can easily move away in the river as well while maintaining your balance efficiently.
Most fishermen and anglers usually prefer wading boots with wading socks so that they provide enough balance and the stockings also keep their feet dry and warm enough in the winter season.
There are multiple types of wading boots/shoes available in the market, and you can pick them up depending upon your needs.
Some of the boots are attached with stockings while others come up with neoprene socks. In some cases, you also have to buy stockings and shoes separately.
Is It Safe To Wear Waders In A Kayak?
Waders are a good option to go with when kayaking because they provide sturdiness, and balance that keep your feet warm. In addition to this water boots are also the ideal choices for kayaking. All of this equipment will keep the rocks away while kayaking.
Waders are not like a necessary evil for fishermen if you are okay with them, wear them, and if not, do not wear them. However, while wearing waders in a boat or a kayak the most important thing is safety, and that too is ensured by putting on your safety belt.
If you trip from the kayak with your waders on it will get all filled up with the water and will pull you into the water, and will ultimately drown you. In most cases, anglers or fishermen do not drown but still, it is very difficult to pull yourself back up to the board.
Do Fishing Waders Keep You Dry?
Though wading stockings provide insulation from the water, in the winter season you have to warm yourself up by layering appropriate clothes. The waders will keep the cold out of your feet but not warm. While wearing waders make sure that you wear breathable nylon pants so that they can let the moisture out, allowing the waders to breathe.
Do not think of wearing denim beneath the waders because they are not breathable and won't allow the moisture to get out, ultimately they would be uncomfortable. It is also crucial to do the after-care of the waders to increase their longevity so you can use them multiple times. Fold your wader from feet to head and secure it in a safe dry place.
Conclusion
Waders can offer a lot of benefits if you want to wear them but they are not something that you can't fish without them. In addition, wearing waders also means that you need some practice and skill in order to make it a hit. Always look for a lightweight, and breathable wader so that you can move freely in the water without your wader pulling you down. Make sure to always fasten your wader with belt, and keep an eye for the tough areas.
Recent Posts
link to 8 Best Fish Finders for Ice Fishing
Are you looking for the best fish finders for ice fishing? If so, you're in the right place. In this blog post, we'll provide you with a list of the best fish finders for ice fishing. We'll also...
link to 7 Best Fish Finders for Small Boats
If you're like most fishermen, you love spending a day on the water catching fish. But if you're like me, you also hate the hassle of getting your boat ready and fighting unpredictable weather...